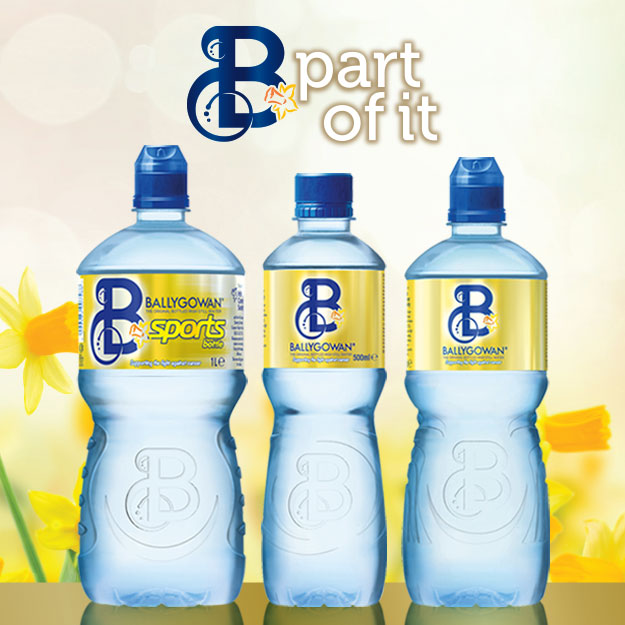 Look out for Ballygowan Gold Instore!
You'll soon see gold labels on all our 500ml, 750ml, 1L and 2L Still bottles in store. Each bottle sold means another donation to help the Irish Cancer Society and Marie Curie improve the lives of cancer patients and their families. Because people who fight cancer are amazing. Every bottle makes a difference. Choose to be part of it!
As part of the ''B part of it'' campaign a donation of up to €90K will be made to the Irish Cancer Society for bottles sold to retailers in Ireland and up to €60K donated to Marie Curie for bottles sold to retailers in the UK.
Ballygowan Unveiled as New Official Hydration Partner of Cork GAA
Ireland's leading bottled water Ballygowan and Energise Sport, part of Britvic Ireland, have today been unveiled as the official hydration partners of Cork GAA. Under the new partnership, Ballygowan and Energise Sport will support Cork hurling and football across all their adult and minor teams.
Commenting on the sponsorship agreement, Diarmuid  Ó Donnabháin, Senior Administrator, Cork GAA said, "Keeping players refreshed and hydrated is an important part of achieving peak performance and we are delighted to be working with two home grown Irish brands that are experts in hydration and performance.  We have no doubt our clubs and supporters will get fully behind our new partners Ballygowan and Energise Sport."
Sian Young, Marketing Manager, Britvic Ireland stated: "Cork GAA is a perfect partner for both Ballygowan and Energise Sport.  The passion, pride and determination that drives Cork GAA and their supporters is an inspiration to us all.  Collaborating with Cork GAA gives us a great platform to promote the benefits of healthy hydration for everyone.  We share the deep rooted pride in our brands that Cork fans share for their county and we are thrilled to get behind the Rebels in 2016 beyond".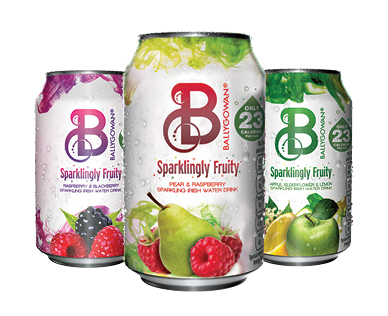 Ballygowan Bursts Into Summer With Launch Of Infused Sparkling Water Drinks
Ballygowan, has unveiled a brand new range of drinks that look set to become a hit this summer. 
Ballygowan Sparklingly Fruity is a refreshingly different drink and contains lightly sparkling Ballygowan Water which has been infused with carefully chosen fruit combinations to offer the ultimate thirst quencher this summer.  Ballygowan Sparklingly Fruity is available in three wonderfully balanced fruit flavours:
Apple, Elderflower and Lemon is a crisp fusion of Combining crisp apple with sweet scented elderflower and a zesty hint of lemon, this pop of refreshment is just 23 calories per can.
Raspberry and Blackberry is a marriage of beloved berries that is the ultimate sweet, summery refreshment. This flavor contains just 23 calories per can.
Lemon & Mint is a joyous burst of freshness, with zingy lemon and cool mint.  And it's just 13 calories per can!
Gently sweetened with stevia leaf extract, each can of Ballygowan Sparklingly Fruity is low in calories and sugar.  With up to just 23 calories per can and developed in Ireland it will appeal to the 9 in 10 people who are on the hunt for healthier options.     
Packaged in a cool white can, Ballygowan Sparklingly Fruity will bring a pop of fruity, clean, crisp refreshment to chilled cabinets this summer.  It is available in single 330ml cans in convenience outlets (RRP €1) or a 6 can multipack (RRP €4.29) in supermarkets nationwide.